I'm Karla Dearsley. Thank you for taking the time to click on my site. Here, you'll not only find my take on the world, but writing tips and some useful contacts, with a particular slant towards speculative fiction.
The site is not only for fans or writers of fantasy fiction. 'Writing fantasy' also refers to the dream I had as a child to be an author. I started with stories and plays (often inspired by Dr Who), and a series of secret agent 'novels' influenced by The Avengers and The Man from Uncle.
The dream remained throughout leaving school at 16, working as a dental nurse/receptionist, a stint in the council housing department, 10 years as a post office counter clerk and philatelic officer, redundancy and going to university to get a BA (Hons) and an MA in Linguistics and Literature. I finally got to be a professional writer 20 years ago, freelancing for local newspapers and magazines and writing business profiles and promotional material, which I still do.
All the while I've continued to write fiction and plays, and I've a steadily growing list of credits ranging from children's stories to horror. For anyone with a fantasy to write, my biggest tip is - keep at it!
Regards,
Karla xx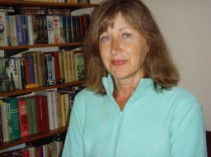 "... an accomplished and compelling piece of writing and the ideas behind it are impressive."
The Short Story Unit, BBC Radio Drama on 'Maternal Instinct'.
"This is a kind of modern-day Aesop's fable and as such is great fun. This was original, animated and genuinely funny."
Lorna Ferguson, Annual Writers' Conference judge on 'A Real Party Animal'.
"An ambitious and well crafted play... This kept me engaged throughout."
Simon Smith, The Sussex Playwrights' Club judge on 'Whistling the Death March'.
"I have to tell you that 'Panteknikon 14'... absorbed and haunted me... it's a skilful and powerful piece of writing."
Lynne Patrick, Real Writers.
"This is a fabulous story. Well-written, completely engaged and with a strong voice."
Kada McDonald, Editor Clonepod on 'The Demon-dancer of Ramjoah'.
"The language of the piece is truly lovely..."
Gary Lee, Pseudopod on 'Soon Beloved'.